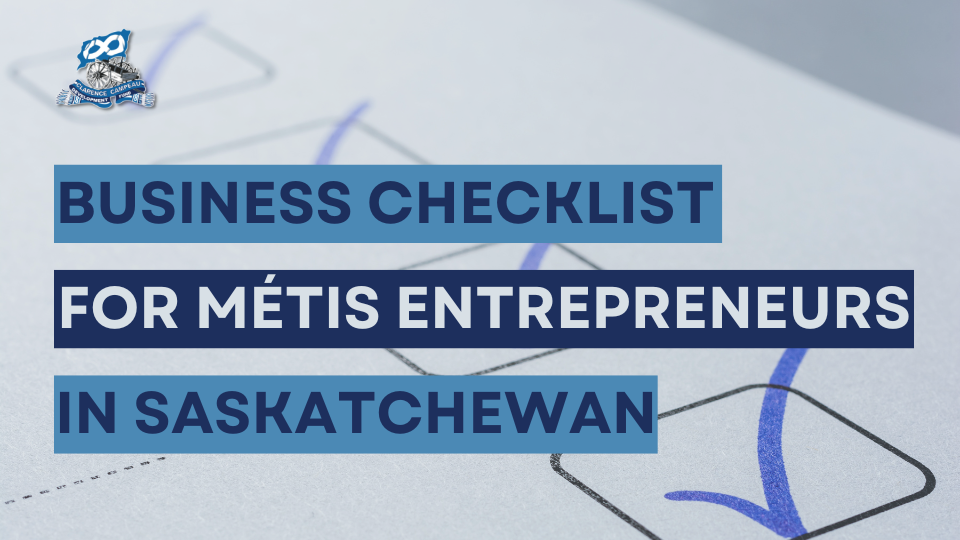 One thing we hear a lot is, I don't know where to start. And that's okay!
We've complied a go-to checklist for Métis entrepreneurs looking to start, expand, or purchase a business in Saskatchewan. This resource will give you the top items you should think about before applying for funding.
Every business is different, and every funding application requires different kinds of information. But here are some items we typically ask for.
Project Costs
Perhaps the most important item on the checklist! To figure out how much funding you'll need, you'll need to determine the cost to start the business. This is a requirement for all projects.
Obtain quotes from suppliers, print off a Kijiji ad, or find a product on Amazon. Call around. Suppliers will be happy to give you a quote as you are a potential customer for them!
Proof of Métis Ancestry
Our funding is specific to Métis entrepreneurs! We'll need a copy of your Membership Card from the Métis Nation-Saskatchewan. If you don't have one, we also accept a letter of confirmation on letterhead from your Local President or Regional Director confirming your Métis status.
Personal Resume
We'll need a copy of the resume for each business owner. This ensures you have all the relevant credentials or certifications to run your business. It helps to build your case for funding.
Articles of Incorporation
How are you structuring your business? Will it be a Corporation, Partnership, or Sole Proprietorship? If a Corporation, we'll need copies of your Articles of Incorporation. If a Partnership, we'll need a copy of your Partnership Agreement. If a Sole Proprietorship, you don't need to get anything to us!
Proof of Cash Equity
Every deal requires a bit of cash from the client. Our minimum amount is 5%, but if you'd like to put in more to reduce your debt payments you're more than welcome to do so!
To prove cash equity, we usually receive a screenshot from your online banking account, or a letter from your bank indicating you have enough cash in your account. We usually wait until all project costs come in before we figure out what your client equity portion will be.
Proof of Term Lender Financing
We can only assist with a portion of the financing. That means, there needs to be another bank or financial institution involved with the rest of the project.
We encourage you to talk to the bank where you do your personal banking about a business loan. Don't be afraid to shop around. An interest rate is important! If you need contacts for other banks, feel free to reach out to us and we will put you in touch with a potential lending partner.
Depending on your project, we might need more information as we move along, but this covers most of it.
Ready to take the next step? You can call us directly at 306-657-4870, or fill out the form below, and one of our Business Development Specialists will get in touch with you.
We would love to hear your ideas for your business. Fill out your information and an advisor will contact you!