It's hard to keep track of all the funding agencies out there. But don't worry, we're making it easy for you. Here, you'll find a summary of the main options for financing your next Métis owned business in Saskatchewan.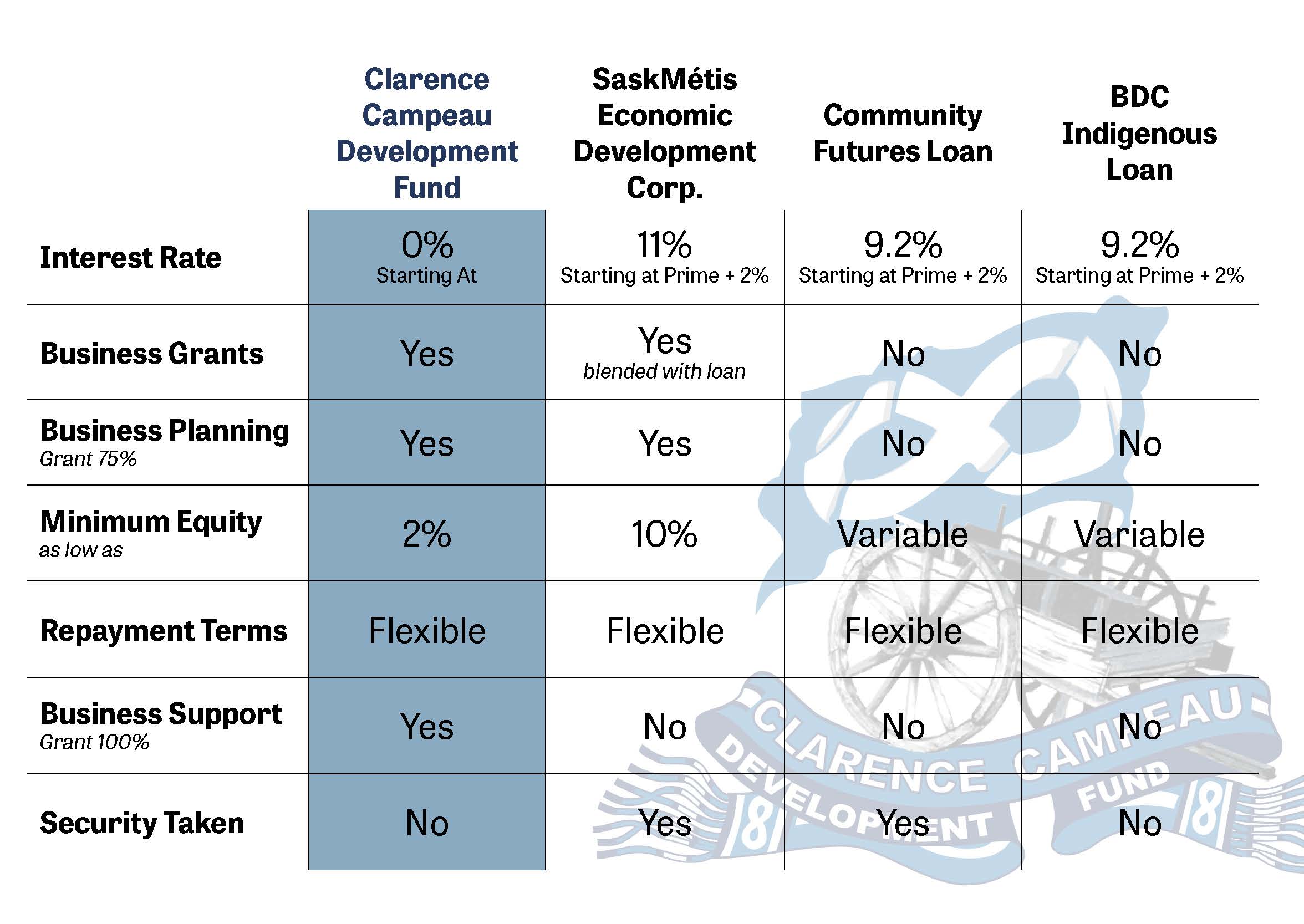 Clarence Campeau Development Fund
We offer both non-repayable grants and repayable loans for entrepreneurs. There are grants for business planning, loans and grants for financing the business, and grants for additional support once your business is up and running and you are a client. Maximum funding is $1,000,000.
We recently introduced a new grant program, the Métis Entrepreneur Equity Program, in which we can provide a non-repayable grant of up to 40% of eligible project costs to a maximum of $99,999. This is funding you receive upfront and is not blended in with our other loan products. Contact us to check your eligibility!
Many of our clients access our Business Development Program, which offers interest-free (0%) financing of up to 50% of project costs to a maximum of $300,000.  Minimum cash equity required for this program is 5%. That means you can get into a $100,000 opportunity for $5,000!
The Business Plan Program is also very popular. This program is designed for entrepreneurs who require a professional business plan to attract financing. We connect you with a consultant who builds out the financial projections of the business. Do you have enough cash flow to cover the loans for this business? This program helps to answer that question.
We also offer loan programs specific to Métis Women & Youth. Under these programs, we can look at funding at larger percentage of the business (up to 65%).
In any case, it's best to give us a call (1-306-657-4870) or fill out the form below to see which program is best for you! We also have locations in Saskatoon and Regina if you prefer a face-to-face.
SMEDCO (SaskMetis Economic Development Corp)
SMEDCO offers a variety of loan programs, with loans with interest rates starting at 4.5% and a lending limit of $500,000. As resources are limited, the Loan Programs are often used to lever financial assistance from other public and private sources.
They also deliver a grant program that is blended into their financing packages. You receive a portion of the grant each year, but are required to pay interest on the entire amount (loan & grant).
Minimum cash equity required for SMEDCO is 10%.
As with any funding agency, it is best to reach out directly. You can contact SMEDCO at 306-477-4350.
Community Futures Saskatchewan
Community Futures Saskatchewan provides small business services to people living in rural communities across the province. There are regional offices, and each provide small business loans, tools, training, and events.
Community Futures loans are designed for new start-ups, expansions, or to buy a business in a rural community. Maximum funding is $150,000, and loans start at Prime + 2%.
You can find some great resources on their website including a Business Plan Guide and Cash Flow Worksheet.
Interested? They encourage you to schedule a meeting with your regional office.
BDC
The Business Development Bank of Canada provides a wide range of solutions for Métis entrepreneurs. They do not offer grants, but they do have a variety of loans available. They have a team dedicated exclusively to Indigenous entrepreneurs. You can find out more by visiting their website on the Indigenous Loan here.
Your Personal Bank
One of the best options is to ask your current bank about business loans! They know you better than anyone! Over the years, you've built a relationship with them. They're a great starting point and may just give you the best deal.
What are the next steps?
Each funding agency or bank has something to offer. Don't be afraid to gather information on all of them and weigh the pros and cons. Funding is more than just the money, they can be a partner and provide valuable advice in times of need.
We would love to hear your ideas for your business. Fill out your information and an advisor will contact you!