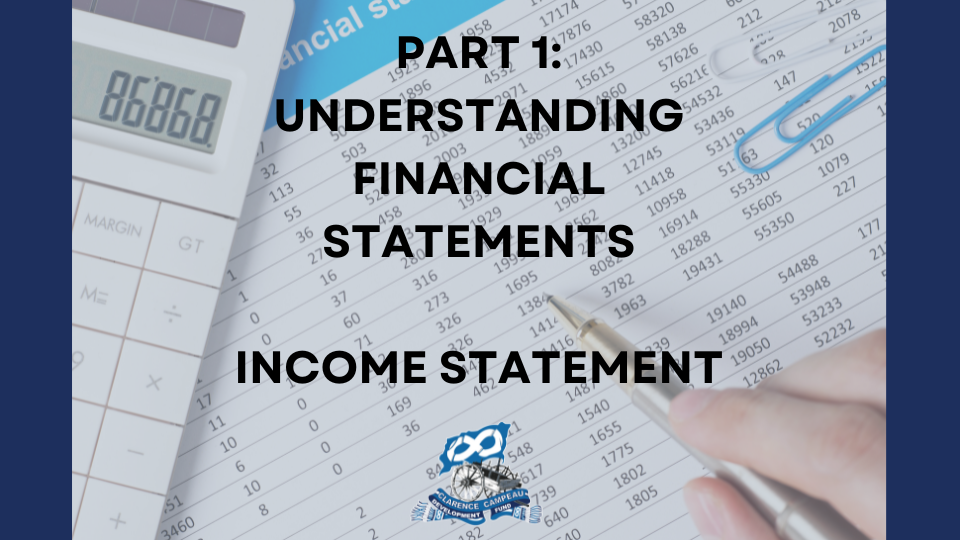 Once you receive financing for your Métis owned business from the Clarence Campeau Development Fund, we ask that you provide us with yearly financial statements.  Any other lender will do the same.  You may ask, why?
Financial statements provide valuable information to both business owners and business lenders. They give you an opportunity to check on the financial health of your business, they provide us with a chance to identify opportunities for additional funding, and ensure your financials are similar to business plan projections.
Your financial statements are made up of three components: an Income Statement, a Balance Sheet, and a Cash Flow Statement.
The Income Statement
An Income Statement tells you how your company has financially performed in your fiscal year.  You can compare the information from your income statement year-over-year to see how your company is growing (or shrinking!)
Here are some of the line items found in an Income Statement and what they tell you about your business:
Revenue:

You can compare revenue year-over-year to see how your sales have grown.
Some financial statements break your revenue down by product line. That way, you can see what products are performing well and which aren't.  This allows you to decide if the product needs more focus to sell well or if it should be removed so you can focus on selling your best performers.

Cost of Goods Sold (COGS):

COGS tell you how much it costs in a year to make the products you've sold.

Gross Margin:

Revenues – COGS = Gross Margin
Gross Margin measures the percentage (or dollar amount) you make from each sale.

Operating Expenses:

This shows you how much it costs in a year to run your business (not including the costs of goods sold).
Common line items include depreciation, interest expense, advertising expenses, travel expenses, professional fees, salaries, rent etc.

Profit:

You can compare your profit year-over-year to see how your company has grown.
Revenues – Expenses = Profit
It's important that you receive and review your financial statements in a timely manner so that you can make relevant business decisions.  For example, if your profits decreased this year that could be a signal to dive a little deeper into your Income Statement to see why.
Aftercare Programs
If you are interested in learning more about Financial Statements, in particular the Income Statement and want to enroll in a training course, our Management Skills Program offers a non-repayable grant that can pay for 75% of training costs.
We also offer a Business Support Program that allows a consultant to come in and identify the exact reasons why your revenue may be increasing, but your net profits are decreasing.  The consultant will also give you recommendations on how your company can improve its financial position.  The Business Support Program can consider funding up to 100% of the costs, to a maximum of $10,000.
Understanding financial statements is critical to knowing what's going on in your business. Specifically, the Income Statement can give you important information on how revenue and expenses compare year over year. As a reminder, all Clarence Campeau Development Fund clients have access to programs that can help you understand your financial statements better.
Interested? All you need to do is give your Business Development Specialist a call 1-306-657-4870.
We would love to hear your ideas for your business. Fill out your information and an advisor will contact you!